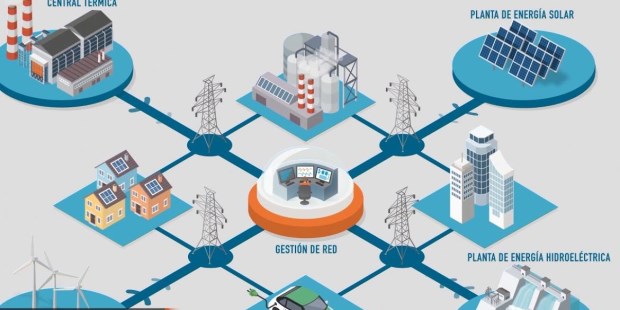 With the research and development project, we have implemented a "Model Smart Network" in Caucete city (San Juan-Argentina) that allows to set up sustainable consumption and generation patterns, to promote a more efficient electric supply, thus, a more rational and economical use of electric power.
The aim is to implement a smart electric network in the city through the incorporation of distributed solar energy and smart remote measurement systems and network monitoring. This allows us to get information on the network and the users, that is processed and analyzed in the Smart Network Analyzing Laboratory and Simulator (LASRI); in which computer tools are developed to support-ease the operation tasks in the same network.
For the director of Grupo REID I+D, Dr. Eng. Mauricio Samper "to have the chance of presenting the results of this project in BIEL Light + Building Buenos Aires is a unique opportunity to show all that we are doing in the Instituto de Energía Eléctrica (IEE)."
REID grupo I+D carries on this project of technological and social development whose challenge is to set up a smart network with a better use of obtained information for the companies to manage better their resources, and the citizens to manage or use their consumption efficiently. 
On his part, Eng. Gustavo Barón, head of Smart Network Analyzing Laboratory and Simulator (LASRI) of IEE said: "this electric network aims to expand its horizons to the whole province and to turn San Juan into an electric technological pole, at the same level of the most important cities worldwide." 
REID I+D is a research and interdisciplinary development team in which electric, electronic, electromechanical and computer engineers take part and that belongs to Instituto de Energía Eléctrica (IEE), executing unit that depends on Universidad Nacional de San Juan (UNSJ) and CONICET. 
BIEL Light + Building Buenos Aires will be carried out on September 11-14, 2019 in La Rural Trade Center. 
The exhibition is only for businessmen and professionals of the sector.  With an invitation: free of charge. People under 16 years will not be admitted, even if attending with an adult. 
Further information:
Press information and photographic material:
https://biel-light-building.ar.messefrankfurt.com/buenosaires/en/press.html     
Links to websites:
www.facebook.com/BIELBuenosAires | www.twitter.com/BIELBuenosAires | www.instagram.com/bielbuenosaires
Background information on CADIEEL
CADIEEL, the Argentinean Chamber of Electronic, Electromechanic and Light-Technology Industries, represents and defends the interests of more than 3,200 companies from the electric - electronic industry, which employ more than 40 thousand highly qualified technicians and export to more than 60 countries on five continents. The industries represented by CADIEEL are the main drivers of technological progress of the country because their products are crosscutting technologies that determine the pace of innovation and economic growth.
For more information, please visit our website at: www.cadieel.org.ar
Background information on Messe Frankfurt
Messe Frankfurt is the world's largest trade fair, congress and event organiser with its own exhibition grounds. With more than 2,500 employees at 30 locations, the company generates annual sales of around €718 million. We have close ties with our industry sectors and serve our customers' business interests efficiently within the framework of our Fairs & Events, Locations and Services business fields. One of the Group's key USPs is its closely knit global sales network, which extends throughout the world. Our comprehensive range of services – both onsite and online – ensures that customers worldwide enjoy consistently high quality and flexibility when planning, organising and running their events. The wide range of services includes renting exhibition grounds, trade fair construction and marketing, personnel and food services. Headquartered in Frankfurt am Main, the company is owned by the City of Frankfurt (60 percent) and the State of Hesse (40 percent).
For more information, please visit our website at:  www.messefrankfurt.com  
Background information on Messe Frankfurt Argentina
Messe Frankfurt Argentina is the affiliate of the worldwide trade fair organization leader. The purpose of the fairs is to promote actual business meetings to boost activity in regional markets, in the domestic market and in turn prompt the development of the technological pole in each area. The current portfolio of shows of Messe Frankfurt Argentina includes the following exhibitions: Automechanika Buenos Aires, BIEL Light + Building Buenos Aires, Confemaq, Emitex, ExpoCehap, ExpoFerretera, ExpoMant, Moto Show, Intersec Buenos Aires, Simatex, Tecno Fidta. In addition to numerous congresses and special events for third party, such as Argentina Oil & Gas Expo Buenos Aires, Argentina Oil and Gas Expo Patagonia, Arminera and Electronics Home, among others.
For more information, please visit our website at: www.argentina.messefrankfurt.com